Embracing Nature's Wisdom: Exploring the Profound Benefits of Naturopathy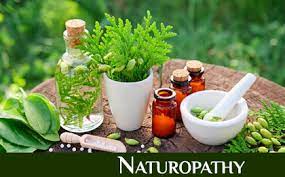 In a world increasingly reliant on synthetic drugs and invasive treatments, a natural and holistic approach to healthcare known as naturopathy has emerged as a beacon of hope. Naturopathy, rooted in the belief that the body possesses an innate ability to heal itself, offers a comprehensive system of medicine that addresses the underlying causes of illness while promoting overall well-being. In this blog post, we embark on a journey to uncover the extraordinary benefits of naturopathy, exploring its principles, individualized treatments, disease prevention strategies, and its profound impact on achieving optimal health and vitality.
Holistic Healthcare and Individualized Treatment: At the heart of naturopathy lies a holistic approach to healthcare, treating the whole person rather than merely focusing on symptoms. Naturopathic doctors take into account the physical, mental, emotional, and spiritual aspects of an individual's health to create personalized treatment plans. By addressing the root causes of illness, naturopathy aims to restore balance and promote long-term healing. The individualized nature of naturopathic care ensures that each person receives treatment tailored to their unique needs, fostering a deep sense of empowerment and personalized attention.

Natural Healing and Minimized Side Effects: Naturopathy embraces the inherent healing power of nature, utilizing natural therapies to support the body's self-healing mechanisms. Treatments may include nutrition and diet counseling, herbal medicine, homeopathy, physical medicine, hydrotherapy, acupuncture, and lifestyle counseling. By harnessing the healing properties of natural substances, naturopathy minimizes the risk of adverse side effects often associated with pharmaceutical interventions. This approach promotes gentle and sustainable healing, optimizing overall well-being.

Resolution of Root Causes: Naturopathic medicine aims to identify and treat the root causes of illness, rather than merely suppressing symptoms. Naturopathic doctors delve deep into a patient's medical history, lifestyle factors, and environmental influences to uncover the underlying imbalances that contribute to disease. By addressing these root causes, naturopathy facilitates comprehensive healing, leading to long-lasting results and reduced chances of recurrence.

Disease Prevention and Optimal Well-being: Prevention is a cornerstone of naturopathy. Naturopathic doctors emphasize the importance of proactive measures to maintain health and prevent illness. By focusing on education and empowering individuals to make informed lifestyle choices, naturopathy promotes disease prevention strategies such as a nutrient-dense diet, regular exercise, stress management, and adequate sleep. These proactive approaches not only reduce the risk of developing chronic conditions but also enhance overall well-being and vitality.

Integrative Approach and Collaboration: Naturopathy complements and integrates with conventional medicine, fostering collaboration between healthcare providers. Naturopathic doctors work alongside other medical professionals, ensuring a comprehensive and holistic understanding of a patient's health. This integrative approach allows for the synergistic effects of both conventional and naturopathic treatments, optimizing outcomes and providing patients with a well-rounded healthcare experience.
Conclusion: Naturopathy offers a transformative paradigm in healthcare, emphasizing the profound benefits of a holistic approach and the innate healing capacity of the human body. From individualized treatment plans and natural healing to disease prevention strategies and collaborative care, naturopathy paves the way for optimal well-being and long-term health. By embracing the wisdom of nature and addressing the root causes of illness, naturopathy empowers individuals to take charge of their health, fostering a harmonious balance between the